Alessandra Guitierrez, D.D.S.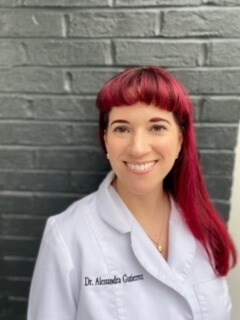 Dr. Alessandra Gutierrez knew from an early age that she wanted to be a dentist. As a child she was inspired by her grandfather Dr. Ramiro Alfaro, co-founder and Dean of the first private dental school in Latin America at Universidad Francisco Marroquín in Guatemala. Throughout her studies in high school and college, her own incredible dentists in Cary, North Carolina mentored her as she grew up to pursue a career in dentistry. In 2008, she earned her undergraduate degree in Psychology at Davidson College, where she founded the institution's first pre-dental society. She later earned her doctor of dental surgery (D.D.S.) degree at the University of North Carolina at Chapel Hill Adams School of Dentistry.
Dr. Gutierrez is always striving for the best in patient care. She is a member of the American Dental Association and the North Carolina Dental Society, and loves to participate in continuing dental education courses to learn about exciting new treatments and technologies.
Cosmetic Dentistry (smile makeovers) is her special interest. Dr. Gutierrez provides services including composite veneers, bonding, and porcelain coverage of the teeth to achieve an improved smile appearance. She also performs esthetic same-day crowns using the office's in-house CEREC digital-milling technology.
Among her favorite pursuits in dentistry is mentoring. Dr. Gutierrez is an active mentor in her community. She also serves as a founding member of the Council of Alumni Healthcare Professionals (CAHP) at Davidson College, and enjoys mentoring pre-dental students across the state.
Dr. Gutierrez (or you can just call her "Dr.G") is enthusiastic about helping your family achieve healthy, beautiful smiles. When she's not working, she enjoys learning languages, watching classic films, reading books of all sorts, and spending time with her family (especially as Auntie to her nieces).